Florence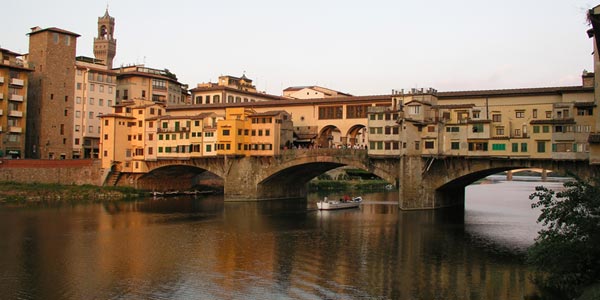 An open-air museum
Florence is one of the most famous, visited cities in the world. It is essentially an open-air museum declared a World Heritage Site by UNESCO in 1982. Churches, palaces and museums are testament to the city's glorious past.
Florentia was founded in 59 b.C. as a small Roman settlement and remained a minor center for centuries. Turned into an independent municipality in the 12th century, Florence became a rich and important city. It was during the Renaissance, however, with the Medici clan in power that Florence was transformed into an influential European capital for art and culture. A magnet of artists, ideas and innovations, Florence attracted the greatest architects, writers, painters and sculptors such as Brunelleschi, Botticelli, Michelangelo, Leonardo da Vinci, and Raphael. The Medici family ruled Florence almost continuously until 1737 when the Hapsburg Lorraines took power. They guided the city and Tuscany with foresight up until its annexation to the Kingdom of Italy of which Florence was the transitional capital for five years (1865-1871).
The signs of this magnificent past are today a popular destination for millions of people from all around the world. Among Florence's main landmarks is the Ponte Vecchio with its goldsmiths' shops, Piazza della Signoria with Palazzo Vecchio and the Loggia della Signoria, the Pitti Palace with its museums and Boboli Gardens and Piazzale Michelangelo with its breathtaking panoramic view of Florence. Among the many churches, the Duomo or Cathedral of S. Maria del Fiore crowned with Brunelleschi's Cupola dominates the city. The Baptistery, the Church of Santa Maria Novella with its cloisters, the Church of  San Lorenzo and the Medici Chapels, the Church of Santa Croce with the Pazzi Chapel are also among the main churches in Florence that merit a visit. Among the most important museums in Florence is the Uffizi Gallery with Botticelli's Birth of Venus, the Academy Gallery with Michelangelo's David and the Bargello Museum with the bronze David by Donatello.
Since so many treasures are housed in all museums and they are all year round very busy it's better to reserve tickets for Florence Museums in advance.
Florence Italy is not just art and culture. It is an international fashion center that every year attracts thousands to the Pitti Immagine events and presentation of collections. From luxury boutiques in Via dei Tornabuoni and Via della Vigna Vecchia to small handcraft workshops in Oltrarno, from sparkling goldsmiths' shops on Ponte Vecchio to the outdoor San Lorenzo Market, Florence offers infinite opportunities for shopping. The most significant handcrafts made in Florence is goldsmith jewelry, leather goods and Florentine mosaic art.
After art and culture, fashion and shopping, Florence also provides an excellent tradition in both food and wine. Florentine cuisine is generally appreciated for its simplicity. The most popular and tasty dishes are ribollita soup and pappa al pomodoro (tomato bread soup), Florentine steak and trippa (tripe), lampredotto and fagioli all'uccelletto. Each dish is flavored with a drizzle of genuine extra-virgin olive oil made in the hills around Florence and savored with a glass of  Chianti wine.
Florence is all this, an open-air museum home to the best in art, fashion, shopping, great food and much more.
Find out more information looking up our guide to Florence.
Florence Accommodation
Florence Lodging Guide - FlorenceAccommodation.com offers a complete guide to bed and breakfast in Florence, rental apartments and other Florence accommodations. Whether you are looking to stay in a luxury B&B in Florence city center or in a relaxing farmhouse near Florence, this is the guide for your holiday in Florence.
Bed and Breakfast near Florence - La Paggeria B&B is located on the hills of Fiesole and offers a suggestive panoramic view over Florence. The b&b offers spacious rooms and an apartment furnished with all comforts for a vacation or even just a weekend in Florence.
B&B in Florence Center - Casa dei Tintori offers an elegant bed and breakfast accommodation in the historical center of Florence, close to Piazza Santa Croce. The refined b&b has five comfortable and spacious bedrooms equipped with all main modern comforts.
Florence B&B Residence - Johanna and Johlea are  charming bed and breakfast lodgings in Florence city center. They are located close to the major museums and monuments of Florence.
Real Estate
Real Estate in Florence - Pitcher & Flaccomio is an agency specialized in managing and selling properties in Florence and Tuscany. The agency also offers holiday rentals in Florence and the surrounding countryside.