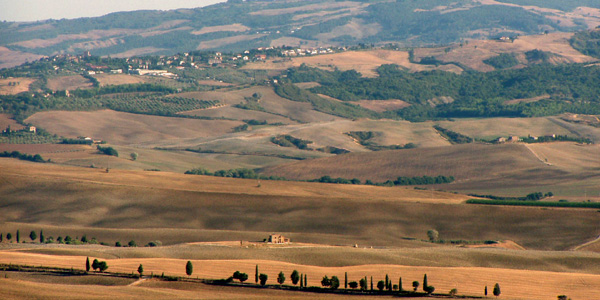 A top destination in Italy
Tuscany is one the Italian most well-known regions thanks to its artistic, historical and economical heritage. Located in central Italy, Tuscany has a population of over 3.5 million and Florence Italy as its capital.
Surrounded by the Apennines on two sides and by the Tyrrhenian Sea on the other, Tuscany is characterized by the incredible variety in its territory: seaside, mountains, hills and flat valleys. The gentle hills of Chianti, the long beaches of Versilia, the white marble quarries of Carrara in the Apuan Alps, the Crete Senesi between Siena and Arezzo, the Silver coast and the wild Maremma are all parts that contribute to the beauty of Tuscany. While these areas and landscapes attract many, Tuscany's beautiful "art cities" are even more well-known beyond its borders. On the very top of the list is Florence with its beautiful Cathedral, known simply as the "Duomo", and the Ponte Vecchio, then Siena with its unique Piazza del Campo and Pisa with its Leaning Tower and Baptistery. Not so famous but still beautiful is Lucca with its Renaissance-era defensive walls and its oval "amphitheater" square, Arezzo with its frescoes by Piero della Francesca and Vasari's house, Livorno with its Medici-era harbor, Carrara with its Malaspina Palace, Pistoia with the Cathedral of San Zeno, Prato with its Museum of Contemporary Art and Grosseto with the Cathedral dedicated to San Lorenzo. In addition, there are hundreds of walled towns and castles that spot the Tuscan countryside including San Gimignano, Volterra, Monteriggioni, Montepulciano and Cortona.
The beautiful landscapes and rich culture in Tuscany are the result of its ancient history going back millennia to the present. Here the Etruscans and Romans lived for centuries founding many important cities that are still alive today albeit with changes. In the Middle Ages, many castles and walled towns were founded and ruled by the local aristocracy which became independent city-states during the 12th century. It was the Renaissance, though, that transformed Tuscany into an important European center of art and culture. Many famous artists throughout the ages have been born in Tuscany, writers, architects, scientists, actors, painters such as Leonardo da Vinci, Michelangelo, Dante Alighieri, Giotto, Galileo Galilei, Niccolò Macchiavelli, Giosuè Carducci, Amedeo Modigliani.
The variety of the territory and the richness of the culture are perfectly reflected in traditional Tuscan cuisine. From ribollita soup to cacciucco (fish stew), from panzanella to acquacotta soup, passing on to a Florentine Steak or trippa or lampredotto (all Florentine specialties) to finish a delicious meal with cantucci biscuit cookies dipped in vin santo (holy wine), panforte or cenci. Fundamental for every Tuscan meal is the use of genuine extra-virgin olive oil and great wine. Among the most famous Tuscan wines are the Chianti Classico wine, Brunello of Montalcino and Morellino from Scansano and the white Vernaccia from San Gimignano wine.
Thanks to its historical-artistic, panoramic and culinary heritage, Tuscany is one of the most attractive destinations around the world. We hope you visit Tuscany on vacation soon!
Tuscany Online Guides
Tuscany Holidays - Discover Tuscany is a complete, free online travel guide offering tips and articles that help you plan your next Tuscan Vacation.
Tuscany.org - Useful resources and reviews of websites about the region of Tuscany (Toscana), Italy.
Tuscany Accommodations
Tuscany Villas & Agriturismos on Tuscanyaccommodation.com - Lodging guide to Tuscany, offers reviews of several Farmhouses, Villas, Bed and breakfasts and hotels in Tuscany, with direct link to properties official websites.
Apartment Rentals in Florence  - Merry-Go-Round offers apartments for holiday rentals in the center of Chianti and Valdarno area towns.