Firenze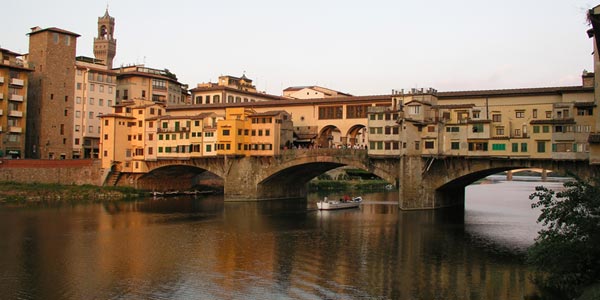 Un museo a cielo aperto
Firenze è una tra le città più conosciute e visitate al mondo. Un museo a cielo aperto dichiarato Patrimionio dell'Umanità dall'UNESCO nel 1982. Chiese, palazzi e musei testimoniano il glorioso passato di questa città dalle origini antichissime.
Florentia nasce nel 59 a.c. come piccolo insediamento romano, rimanendo per secoli un centro di secondaria importanza. Diventata poi libero comune nel XII secolo, Firenze cresce rigogliosa e ricca. Ma è con il Rinascimento e il governo dei Medici che Firenze si trasforma in una capitale d'arte e cultura europea. Fucina di artisti, idee e innovazioni la città ospita i più illustri architetti, scrittori, pittori e scultori quali Brunelleschi, Botticelli, Michelangelo, Leonardo da Vinci, Raffaello. I Medici furono i signori di Firenze quasi ininterrottamente fino al 1737 anno in cui prendono il potere gli Asburgo Lorena che governano con lungimiranza la città e la Toscana fino alla sua annessione al Regno d'Italia, di cui Firenze fu la capitale provvisoria per cinque anni (1865-1871).
I segni di questo illustre passato sono oggi la meta di migliaia di visitatori da tutto il mondo. Tra i monumenti più celebri di Firenze ci sono il Ponte Vecchio con le sue botteghe orafe, Piazza della Signoria con Palazzo Vecchio e la Loggia della Signoria, Palazzo Pitti con il i suoi musei e il Giardino di Boboli e Piazzale Michelangelo con la sua vista mozzafiato su Firenze. Tra le chiese più importanti di Firenze il Duomo o Cattedrale di S.Maria del Fiore con la Cupola del Brunelleschi e il Battistero, la Chiesa di S. Maria Novella con i suoi chiostri, la Chiesa di San Lorenzo e le Cappelle Medicee, la Chiesa di Santa Croce con la Cappella dei Pazzi. Tra i musei più importanti la Galleria degli Uffizi con la Primavera del Botticelli, la Galleria dell'Accademia con il David di Michelangelo e il Museo Nazionale del Bargello con il David bronzeo di Donatello.
Proprio per questo enorme patrimonio storico-artistico la maggior parte dei musei fiorentini è spesso presa d'assalto da orde di visitatori. E' quindi consigliabile prenotare i biglietti per i musei di Firenze in anticipo.
Firenze non offre solo arte e cultura. Infatti è anche un'importante punto di riferimento per la moda internazionale con i gli appuntamenti di Pitti Immagine. Dalle lussuose boutique di Via dei Tornabuoni e di Via della Vigna Vecchia alle piccole botteghe artigiane dell' Oltrarno, dalle scintillanti botteghe orafe del Ponte Vecchio al Mercato di San Lorenzo, Firenze offre infinite possibilità per lo shopping. Tra le produzioni artigianali più significative e tradizionali di Firenze ci sono l'arte orafa, la lavorazione della pelle e il commesso fiorentino.
Dopo l'arte e la cultura, la moda e lo shopping, Firenze è cucina tradizionale e vino. La cucina fiorentina è molto apprezzata per la semplicità e l'abbondanza dei suoi piatti. Tra i piatti più saporiti e popolari la Ribollita e la Pappa al Pomodoro, la Bistecca alla Fiorentina e la Trippa, il Lampredotto e i Fagioli all'Uccelletto. Tutti i piatti delle cucina tradizionale sono conditi con un giro d'olio extra vergine delle colline fiorentine e un bicchiere di vino Chianti.
Firenze è questo. Un museo a cielo aperto.
Iniziate la vostra visita a Firenze con i nostri suggerimenti.
FirenzeAlloggio.com - Guida agli alloggi di Firenze - Firenze Alloggio offre una guida alle strutture turistiche  per il vostro soggiorno a Firenze: bed and breakfast, appartamenti e hotel nel centro di Firenze o agriturismi e ville sulle colline vicino a Firenze.
Bed and Breakfast Firenze - La Paggeria B&B si trova sulle colline di Fiesole ed offre una suggestiva vista panoramica su Firenze. Offre camere spaziose ed un appartamento in pietra dotati dei comfort necessari per trascorrere una vacanza o anche solo un week end a Firenze.
Residenza B&B in centro a Firenze - Johanna & Johlea B&B sono eleganti bed and breakfast a Firenze. Le residenze si trovano nel centro di Firenze a pochi passi dai principali musei e monumenti. Offrono ampie camere dotate di tutti i moderni comfort per godervi al meglio il vostro soggiorno a Firenze.